Kingsley Holgate's crew have loaded up their expedition Land Rovers and headed for Mozambique with their sturdy 'Ma Robert' inflatable pontoon boat in tow, to assist the non-profit Doctors For Life International (DFL) team in conducting free, life-changing, cataract operations in the Zambezi Delta, as part of DFL's Aid to Africa programme.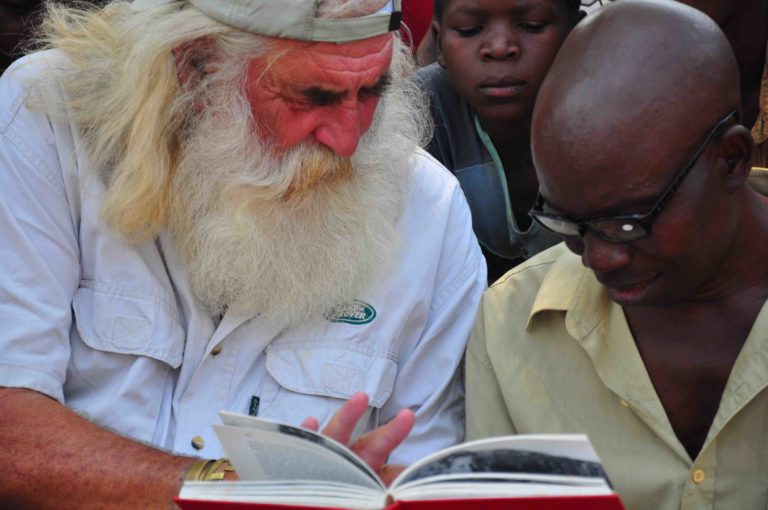 The Kingsley Holgate Foundation is taking its Mashozi's Rite to Sight programme to a new level with this campaign, called 'Vision Mission'.
In keeping with using adventure to improve lives, the Kingsley Holgate Foundation's focus on helping those with poor eyesight was started more than a decade ago by Mashozi (Gill) Holgate. 'I remember the day clearly,' says Kingsley.
'We were on our 23° 27 Capricorn round-the-world-by-Land-Rover Expedition, in South America close to the Piranha River, in the company of a team of rangers. They told us that they were about to evict an old man who had lived all his life in a local village because he was becoming a danger to himself and others – he'd nearly burned down his hut several times whilst trying to light his stove. We went with them to the old man's hut and sure enough, there he was, fumbling with a box of matches. The problem was – he couldn't see properly.
'I don't know what made Mashozi think of it, but she suddenly rummaged in her big expedition bag, brought out a pair of her own basic readers and popped them on the old man's nose. Miraculously, they were the perfect strength. A look of complete surprise came over his face, followed by a big, toothy grin as for the first time in years, he could see clearly again. There were claps and cheers from the rangers as the old man confidently struck the match, lit his stove and made us each a cup of coffee. The rangers allowed him to stay in his home and that was the start of our Mashozi's Rite to Sight programme, named in her honour. Since then, it's gone from strength to strength; after careful eye tests, we've distributed over 200,000 pairs of reading glasses to poor-sighted, mostly elderly people in remote areas all over Africa and beyond. The instant gratitude from the recipients and the immediate difference it makes in their lives is heart-warming.'
DFL has performed 2,500 eye surgeries throughout Africa over the past decade, helping to reverse blindness and dramatically change lives. This Zambezi Delta Vision outreach is in response to a call for help to assist blind people in the Marromeu, Luabo and Chinde areas. DFL and the Kingsley Holgate Foundation are transporting two mobile operating theatres to Marromeu on the banks of the Zambezi River, along with a team of volunteer doctors and nurses from South Africa and eSwatini, with the aim of conducting at least 200 cataract surgeries during August.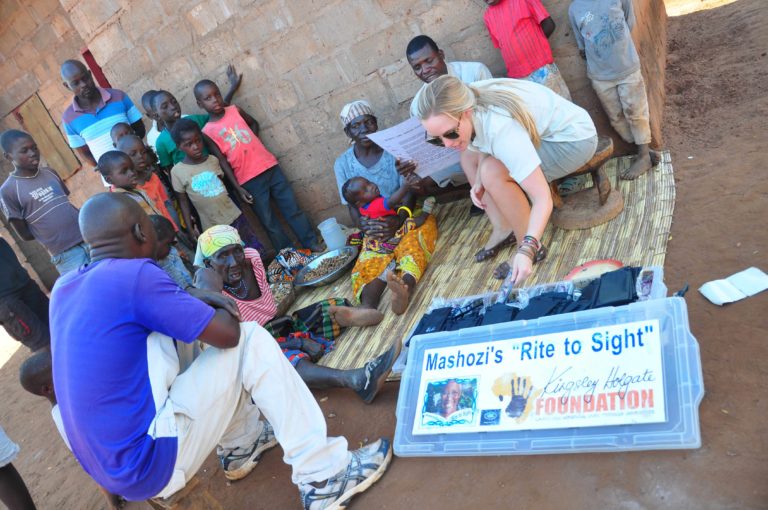 'We are incredibly honoured to be a part of this humanitarian mission,' says expedition leader Ross Holgate. 'We know the Zambezi River well and our role will be to provide ground support. Using our three Land Rovers and the 'Ma Robert' boat, we'll be criss-crossing the Zambezi Delta, conducting our normal malaria prevention and Mashozi Rite to Sight spectacle-distribution work, and at the same time, assessing patients that need more stringent, corrective eye surgery. The DFL doctors will train our expedition team on what cataract symptoms to look for and we will transport patients and their family members by water and road to the operating theatres, and then return them home after their eye surgery. It's going to be a lot of hard work in difficult conditions with tricky logistics; just the amount of expedition kit, including the bolt-together 'Ma Robert' boat and medical equipment that's being transported 2,000 kilometres to the Delta, is quite unbelievable.'
Also supporting this humanitarian effort is the non-profit Mercy Air group, which recently played a vital role in providing emergency air support after Cyclone Idai devastated central Mozambique, rescuing hundreds of victims and transporting tonnes of food, drinking water, medical supplies and personnel to flood-stricken communities. For this Zambezi Delta mission, Mercy Air is providing a helicopter and aeroplane to transport cataract patients living in inaccessible villages to the operating theatres by air.
'The capabilities of our tried-and-tested Land Rover Discoverys and faithful old Defender 130 are really going to be needed,' continues Ross. 'These are the same vehicles that took us safely to Africa's extreme easterly point in dangerous Somalia in 2017 and completed the 17,000-kilometre transcontinental Cape Town to Kathmandu expedition last year, making short work of below-freezing, high-altitude and snow-filled mountain passes. Then in April this year, they delivered tonnes of malaria prevention supplies and clean drinking water to flooded communities near Gorongosa National Park that were badly affected by Cyclone Idai.'
Zambezi Vision Mission at a glance:
– 3 Expedition Land Rovers
– 2 Mercy Air aircraft
– 2 Doctors For Life mobile operating theatres
– 1 large, inflatable pontoon-type 'Ma Robert' boat and tender
– 22 personnel
– 10 tonnes of equipment
– 2,000Km of rough roads
– 230Km of coastline and 18,000Km² of swamps, floodplains and savannah in the Zambezi Delta
– 200+ cataract operations
– 1,000 recipients of Mashozi's Rite to Sight eye-testing and spectacle distribution.
Text and images: Kingsely Holgate Foundation – Link to article

Link to article –